Project Description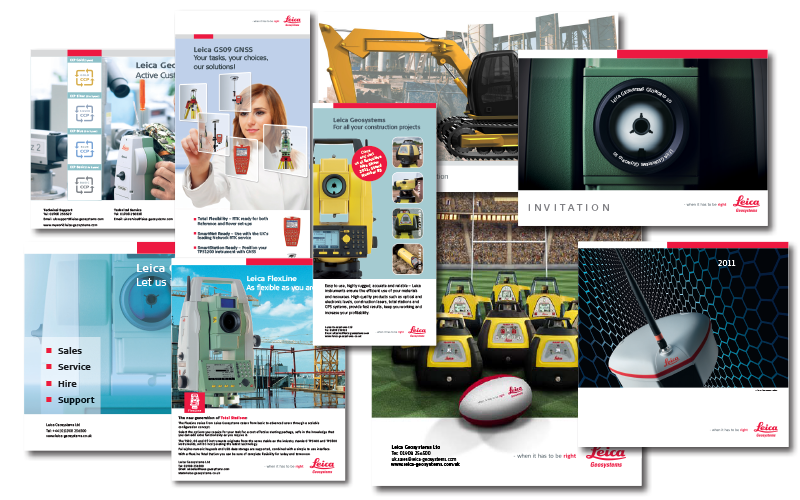 LEICA GEOSYSTEMS
Surveying solutions and GIS systems
We have been working with Leica Geosystems, whose UK base is in Milton Keynes, since 2003 and have supplied numerous solutions over that time. We provide marketing support through design and print and always deliver what they want, when they want it. Throughout staff changes, we have maintained a long relationship and have satisfied clients to show for it.
Solutions include
Design of marketing and advertising collateral
Roadshow marketing materials
Microsites and web banners
Production of a DVD in 11 European languages
Brochure translations and layout to 11 European languages
Print and procurement solutions:
Brochures, event invitations, flyers, adverts, posters
Direct mail
Scale cardboard cut-outs with working levelling staff for product demos
Scale cut-outs of excavators and diggers
Bespoke digitally printed 'smartie' boxes for a product launch
Promotional merchandise
We've been using Fidelity for over 10 years for design and print projects. They have consistently provided a great service, with projects delivered on time and to budget. I would definitely recommend them.
"Since I started working for Leica Geosystems in 2004, I have used Fidelity and found their service to be incredibly good. The service they offer is second to none, with a quick turnaround on projects when given short notice for artwork and printing. I would recommend the team at
Fidelity to anyone as they provide an excellent service and if the opportunity arises in my new position, I would have no hesitation to use them again".